The Decree of the Council of Ministers of the USSR (USSR Cabinet) № 2369 on organization of new institute within the Academy of Sciences of the USSR is dated June, 29th 1948.
The very name of the institute, incorporated in the Academy of Sciences of the USSR system, which included words "computer engineering", tells that by the December 1948 the development of the computer engineering in the country was performed not only by talented enthusiasts (among them, of course, Sergey Alexeyevich Lebedev, who has been in charge of developing MESM since 1946, Isaac Semyonovich Brook, Bashir Iskandarovich Rameyev, etc) but at the government level as well.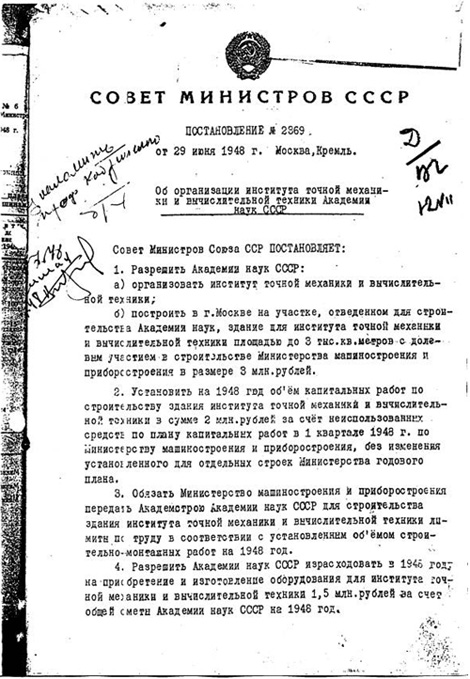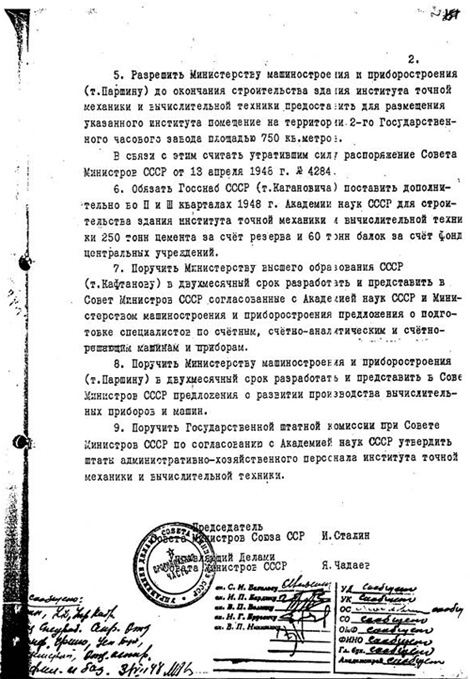 IPM and CE was developing world-famous ECM of BESM, M-20 and Elbrus series as well as many less known special purpose ECM. In 1990 one of the BESM-6 units was moved in London and exhibited in the Science Museum as Europe's best supercomputer at the time.
On December, 4th 1948 corresponding member of the Academy of Sciences of the USSR I.S. Brook and his team received inventor's certificate № 10475 for invention of electronic computing machine. Later, this team developed ECM М-1, М-2, М-3, М-4, М-5, М-7-200 and М-7-800.
On December, 17th 1948 the Decree of the Council of Ministers of the USSR № 4663-1829 was issued, according to which a Special construction department № 245 (SCD-245) was organized attached to the SAM Moscow plant. The goal of the SCD-245 was to develop and to procure construction of computer engineering for defensive objects' control system. Later it created serial vacuum tube computers "Strela", "Polyot", "Operator", series of special simulation systems, first М-20 computers (in cooperation with IPM and CE ASUSSR), "Ural-1", "Pogoda", "Kristall", М-205, М-206.